35.00
35.00
35.00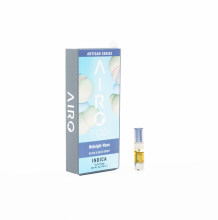 AiroPro Cartridge | Midnight Moon 500mg Rec
Pick-up Location
Note:
Price may vary at different stores
Description
AiroPro's Midnight Moon 500 mg ceramic cartridges are pre-filled with high-potency oil. Meet Midnight Moon. In this choice pairing, the deep sweetness of classic blueberry is enhanced by a dark and sour friend. The blackberry's true nature as a non-berry, but rather a member of its own exotic class, is revealed on the palate. This blend highlights the best features of each fruit and its distilled cannabis oil brings everything to life. STRAIN: Indica. BATTERY TYPE: AiroPro cartridges use a proprietary Airo Pro/IndigoPro pen. Durable, virtually-unbreakable magnesium alloy body and long-lasting 320mAh Li-ion battery. 8.5 W power output, 300mA (1.5W) charging current, Micro USB rechargeable.
LtgTf6HveS
510
AiroPro Cartridge | Midnight Moon 500mg Rec
Tried it once. Very not bad but you have to buy a separate battery. Why don't they stick with 510?
Similar Products