1
1
10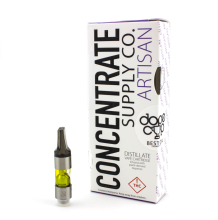 CSC Cartridge | Lilac Dream CBD/THC 1:1 500mg Rec
Pick-up Location
Note:
Price may vary at different stores
Description
CSC Lilac Dream Cartridge 500mg. Distillate this refined cant be paired with just any hardware. The ceramic technology used in CSC vaporizer cartridges is second to none – yielding consistent flavor & vapor production with every draw. The cartridges are free of any cutting agents such as PG, PEG, VG & MCT. POTENCY: 88-98% Cannabinoids STRAIN TYPE: Non-specific. BATTERY TYPE: 510 thread.
t8wcGx3vRo
Characteristics
Manufacturer
Concentrate Supply Company
Millie
CSC Cartridge | Lilac Dream CBD/THC 1:1 500mg Rec
I love CSC cause they are always there, they are delicious, and relatively cheap! Also, not many brands offer 1:1 CBD THC as they do.
Similar Products