1
1
10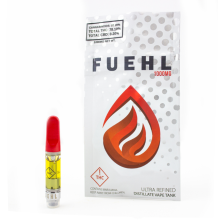 Fuehl Terp Cartridge | Durban Poison 1000mg Med
Pick-up Location
Note:
Price may vary at different stores
Description
Fuehl Durban Poison 1000mg vape cartridge. Fuehl utilizes ultra-refined cannabis distillate to ensure consistent potency & purity. These flavorful tanks are perfect for on-the-go consumption and are filled with natural, plant-derived ingredients, whether flavored or infused with cannabis-derived terpenes. POTENCY: 75-85% cannabinoids. STRAIN TYPE: Sativa. BATTERY TYPE: 510 thread.
3YPmjst2BP
Sonya
Fuehl Terp Cartridge | Durban Poison 1000mg Med
1000 mg filled with one of my favorites sativa's. Durban poison has a peculiar smell, and though it is a sativa it is also calming, as well as energy boosting. Not racy as it sometimes happens with others.
Similar Products