1
1
10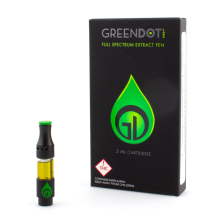 Green Dot Live Resin Cartridge | iScream 500mg Rec
Pick-up Location
Note:
Price may vary at different stores
Description
Green Dot Labs Corleone Live Resin cartridge 500mg. The GDL cartridges are filled with pure, undiluted live resin extracted from living cannabis plants with no diluents like propylene glycol, polyethylene glycol 400, vegetable glycerin, MCT, and Vitamin E acetate; potency and viscosity-enhancing cannabis distillate or CO2 oil; or terpenes derived from any source other than the mother plant. STRAIN TYPE: Hybrid. I-95 x Screaming OG PALATE: Gas, Moth Balls, Fabric Softener POTENCY: 67-74% BATTERY TYPE: 510 thread
7QioMdnrt6
Wilson
Green Dot Live Resin Cartridge | iScream 500mg Rec
iScream, uscream, we all scream for Green Dot ISCREAM! :) Jokes aside, it is dank!