65.00
65.00
65.00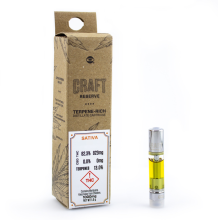 O.Pen Craft Cartridge | Tangerine Frost 1000mg Rec
Pick-up Location
Note:
Price may vary at different stores
Description
Tangerine Frost 1000mg O.PenVape Craft Reserve cartridge is filled with one of the purest and most potent oils on the market created from hand-selected premium flower. Using cutting-edge subcritical CO2 extraction for terpenes and supercritical extraction for cannabinoids allows for a more full-bodied & flavorful experience while C-Cell technology ensures large, tasty hits. STRAIN TYPE: Sativa. POTENCY: 70-85%+ THC. BATTERY TYPE: 510 thread.
wj8cgKt4vt
Cecille
O.Pen Craft Cartridge | Tangerine Frost 1000mg Rec
Tangie in O.pen cart. Hope it's the one from Silver Stem! Love the strain!
Similar Products