30.00
30.00
30.00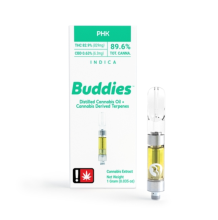 Pineapple Dist. Cart., 1g
Pick-up Location
Note:
Price may vary at different stores
Description
Award-winning distilled cannabis oil with cannabis derived terpenes. Strain-specific terpenes extracted in-house and folded into highly clarified, potency-packed cannabis oil distillate. Buddies Brand™ patent-pending process allows us to reintroduce 100% cannabis-derived terpenes, for taste and representation true to the profile of the flower it came from. Buddies Brand™ produces the highest quality, best-tasting THC products at a price that fits your budget. 2018 Oregon Dope Cup Best Vape, 2017 Best Distillate.
SfZGvqgvAD
Characteristics
Manufacturer
Buddies Brand
This product is not rated yet. Be the first to review it.
Similar Products