1
1
10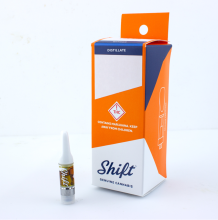 Shift Distillate Cartridge | Lemon Jilly 500mg Med
Pick-up Location
Note:
Price may vary at different stores
Description
Lemon Jilly is a modern day remake of a rock-and-roll classic. We set our sights on a Jilly Bean profile and mixed it with our citrus base distillate. The results are sweet citrus, tangy orange and ripe mango notes dancing in perfect harmony - a true hybrid.
For a safe, consistent, enjoyable experience, look no further than Shift Cannabis Cartridges. Dedicated to fueling your freedom to explore, Shift creates products built for your next adventure. The proprietary flavors are designed to deliver taste and a consistent effect.
Only the highest quality plant materials from one of Colorado's most advanced grow operations to ensure we end up with the best possible product.
All Shift products undergo internal and third-party testing to guarantee a safe, consistent experience.
STRAIN TYPE: Hybrid.
POTENCY: Check the packaging for precise percentage for your batch.
BATTERY TYPE: 510 thread.
DcgYSkgFng
Characteristics
Manufacturer
Shift Cannabis
Characteristics
Manufacturer
Shift Cannabis
This product is not rated yet. Be the first to review it.
Similar Products