30.00
30.00
30.00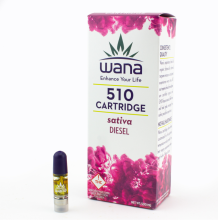 Wana Cartridge | Sativa Diesel 500mg Rec
Pick-up Location
Note:
Price may vary at different stores
Description
Our Diesel flavor profile is modeled on classic Diesel favorites such as Sour Diesel and Super Silver Diesel. Uplifting, motivating and stress relieving, this pungent, yet sweet and sour sativa will leave you happy and energized. Wana 510 Cartridges are made with state-of-the-art hardware, crafted with all natural ingredients, and enhanced with our proprietary blend of organic botanically derived terpenes for a smooth, delicious and potent experience. For optimal results, pair your 510 cartridges with a Wana Custom Rechargeable Battery (sold separately). STRAIN TYPE: Sativa. POTENCY: 80-92% BATTERY TYPE: 510 thread.
gc69ZwbozY
JD
Wana Cartridge | Sativa Diesel 500mg Rec
Great sativa. Gets the juices flowing with a pleasant buzz.
Similar Products