30.00
30.00
30.00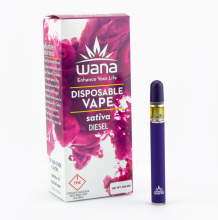 Wana Disposable Vape | Sativa 300mg Rec
Pick-up Location
Note:
Price may vary at different stores
Description
Wana's Diesel flavor profile is modeled on classic Diesel favorites such as Sour Diesel and Super Silver Diesel. Uplifting, motivating, and stress relieving, this pungent, yet sweet and sour sativa will leave you happy and energized.
k4PmtSJEZe
Michelle W.
Wana Disposable Vape | Sativa 300mg Rec
i'be known wana as edibles manufacturer. I was surprised to find out they are making vape carts. Pretty decent stuff.