149.00
149.00
149.00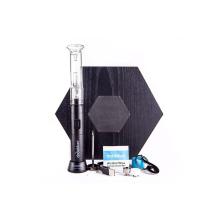 Dr. Dabber | Boost eRig Vaporizer
Pick-up Location
Note:
Price may vary at different stores
Description
The Dr. Dabber Boost is the first portable, battery-powered dab rig for essential oils, employing a titanium domeless nail much like you would see in traditional glass dab rigs. No torch required. The device heats to an optimal temperature with a simple button press, making it one of the easiest dabbing solutions available. Click the power button 3 times when using the titanium nail/ceramic nail, or click 5 times to unlock a higher heat setting for use with the quartz nail (included). When attached to the included glass water filtration piece, the Boost replicates the dabbing experience perfectly. Capable of 20 to 30 uses on a single battery charge, the Boost eRig truly is the best of both worlds: a portable dabbing experience without any sacrifice. *This unit is not suitable for dry herbs, only oils and waxes*
MQgBnwgyJP
This product is not rated yet. Be the first to review it.
Similar Products