1
USD
10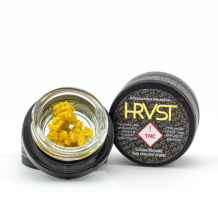 HRVST Wax | Animal Mints 1g Med
Pick-up Location
Note:
Price may vary at different stores
Description
HRVST Labs' state-of-the-art extraction process provides the highest quality concentrates to both Colorado's medical and recreational markets. With a focus on partnering with some of Colorado's best gardens, their commitment to quality has ensured consumers receive a clean, high-terpene extract that can be enjoyed by the most selective connoisseurs. Wax was named because it typically will look like, well, wax. This can range from a wet, buttery consistency to dry and honeycomb-like. Wax is processed in a similar fashion as shatter but is agitated, and heated so the extract will bind together in a different fashion, giving it an opaque look and waxy consistency. STRAIN TYPE: Hybrid.
5TJexFNArC
This product is not rated yet. Be the first to review it.
Similar Products