1
1
10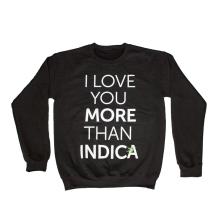 I Love Indica Crewneck | Black Size XXL
Pick-up Location
Note:
Price may vary at different stores
Description
Make a proud statement with our exclusive I Love You More Than Indica Crewneck! In today's world where cannabis is finally accepted more and more, you can stand out with new Silver Stem Fine Cannabis apparel designed for those who enjoy marijuana flower and are doing so responsibly and in style. We have created a new line of apparel that is neat, often humorous and enables you to stand out in the crowd. Get our new I Love You More Than Indica Crewneck today - it is simple, yet bold and immediately tells the world a lot about you.
ZoNkXCgPLC
James
I Love Indica Crewneck | Black Size XXL
It feels so soft and warm. I'm really enjoying it.
Similar Products