18.00
18.00
18.00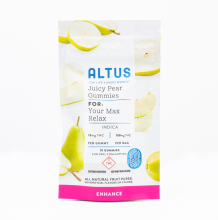 Altus Fruit Puree Gummies | Juicy Pear Indica 100mg Rec
Pick-up Location
Note:
Price may vary at different stores
Description
Altus Juicy Pear fruit puree gummies are featured in the Enhance product line and are THC centered products made with pure, impurity-free strain sourced distillate and all natural fruit puree. The package is resealable, with separate compartments for each dose, ensuring freshness and flavor consistency. Altus gummies are perfect for enhancing life experiences, special occasions or perhaps hanging out with friends after work. INGREDIENTS: All natural fruit puree. No artificial flavors or colors. DIETARY RESTRICTIONS: gluten free, dairy free and sugar free. STRAIN TYPE: Indica. DOSAGE: 100mg THC and 100mg CBD total. 10 gummies x 10mg THC and 10mg CBD each.
c5nDRWSrR9
JJ
Altus Fruit Puree Gummies | Juicy Pear Indica 100mg Rec
Rare and amazing flavor. And they say what they are - indica, so you know what to expect. Bought them at SS on Colfax yeterday.
Similar Products