1
1
10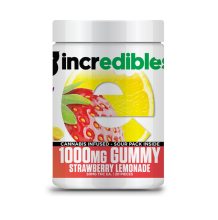 Incredibles Gummies | Indica Strawberry Lemonade 1000mg Med
Pick-up Location
Note:
Price may vary at different stores
Description
Incredibles' high milligram gummies are made with all-natural fruit juice and sustainable oils. Available in indica or sativa. Of course, they're always gluten and GMO free. Triple-lab testing ensures consistent, reliable relief and the highest standards in product safety and purity.
STRAIN TYPE: Indica.
DOSAGE: 1000mg THC total. 20 pieces x 50mg THC each.
xqk2rysWag
Jack
Incredibles Gummies | Indica Strawberry Lemonade 1000mg Med
Incredibles are truly incredible edibles. Wish they had this in pure strawbery but this will do. Oh yeah.
Similar Products