1
1
10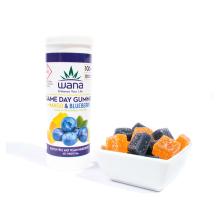 Wana Game Day Gummies | Mango & Blueberry 100mg Rec
Pick-up Location
Note:
Price may vary at different stores
Description
Wana Brands has announced the addition of 2018 Game Day Gummies to its product line. The limited edition Mango & Blueberry Game Day Gummies Flavor Pack features all natural coloring and flavors, offering Colorado football fans a discreet way to enjoy cannabis while rooting for their hometown team. The delicious all natural combo Flavor Pack of Mango & Blueberry is a tribute to the colors of the Mile-High City.
This product is not rated yet. Be the first to review it.
Similar Products