15.00
15.00
15.00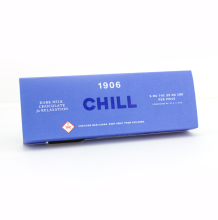 1906 Chill | 5:1 Hybrid 3-Pack 15mg Rec
Pick-up Location
Note:
Price may vary at different stores
Description
A substantial dose of CBD helps calm muscles, diminish inflammation, and reduce tension. Just one dose of Chill lets you feel the day's stress dissipate and settle into super-restorative downtime. Great after an intense workout, unwinding tense and stiff bodies, soothing anxiety, erasing rough workdays, replacing the evening cocktail, and tossing out the Xanax. Like all 1906 products, Chill is with 5mg THC, so you can still continue to be productive while effectively shedding the ick of the day.
FGuJv7Fqkz
This product is not rated yet. Be the first to review it.
Similar Products