22.80
22.80
22.80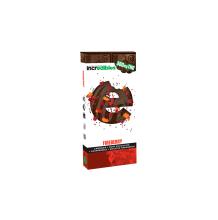 Incredibles Fireberry | 300mg Med
Pick-up Location
Note:
Price may vary at different stores
Description
Chili heads and cannabis aficionados alike will appreciate the Fireberry Bar, which melds sweet, tangy raspberries, spicy roasted habaneros and dark chocolate. This bar has bite, and at 300 mg THC, it will leave you feeling right. Try a Fireberry Bar and experience Colorado's top-awarded edibles company. We use sustainably-sourced ingredients and oils processed through our proprietary technology. Gluten free, GMO-free, and triple-tested for accuracy—that's the incredibles promise!
qY39xBD643
This product is not rated yet. Be the first to review it.
Similar Products