24.00
24.00
24.00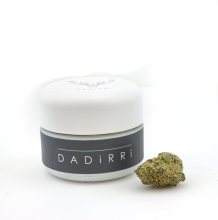 Dadirri Caviar Sunrocks | Hybrid 1g Rec
Pick-up Location
Note:
Price may vary at different stores
Description
Dadirri Caviar Sunrocks are unlike any Caviar you have had before. Top shelf bud, soaked in distillate and coated in bubble hash that comes in keepsake, glass jar. High potency, strain specific and great flavor! POTENCY: 45-65% STRAIN TYPE: Hybrid. DOSAGE: 1 g total.
ZL8zBdKmgC
Kid Rock
Dadirri Caviar Sunrocks | Hybrid 1g Rec
Wow wow wow. Head spinning stufff right here. Literally! Not for newbies, that's for sure.
Similar Products