65.00
65.00
65.00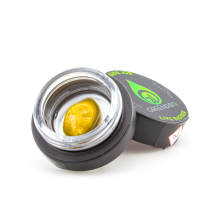 Green Dot Black Label Live Badder Rosin | Blu Froot 1g Rec
Pick-up Location
Note:
Price may vary at different stores
Description
Green Dot Labs'Live Rosin starts with flavorful, potent cannabis varietals from our extensive genetic library. After being carefully cultivated in the Black Label garden, the plants are harvested at peak freshness and extracted using time-tested artisanal cold water hash-making techniques, producing a vividly flavorful Live Rosin with thousands of live trichome heads in every gram. Pick up a gram of Black Label Live Rosin to experience the fresh, intense flavors and effects in the finish that connoisseurs covet. STRAIN TYPE: Hybrid.
cuBuKnwjsZ
This product is not rated yet. Be the first to review it.
Similar Products