1
1
10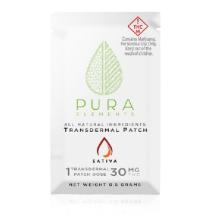 Pura Elements Patch | Indica 40mg Med
Pick-up Location
Note:
Price may vary at different stores
Description
Indica Transdermal Patch from Pura Elements. The skin is the barrier that lies between us and our natural environments. As a protective layer, molecules such as cannabinoids are often too large to deeply penetrate the skin when applied transdermally – Pura Elements has developed a blended formulation using added plant extracts that increase the skins' permeability in order to enhance cannabinoid delivery for maximum achievable absorption into the bloodstream (bioavailability). The patches provide discrete, slow-release administration of cannabinoids that maintain their medical benefit with minimal psychoactive effects, without the use of synthetic and potentially harmful chemical enhancers. Contains 40mg THC.
Characteristics
Manufacturer
Pura Elements
Characteristics
Manufacturer
Pura Elements
This product is not rated yet. Be the first to review it.
Similar Products