1
1
10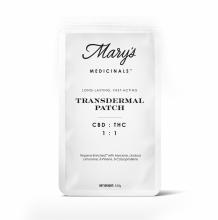 Mary's Medicinals CBD:THC Patch | 1:1 20mg Rec
Pick-up Location
Note:
Price may vary at different stores
Description
Mary's award-winning transdermal patches are born out of a commitment to accurate dosing through an advanced delivery method. The discreet 2×2″ squares simply adhere to any veinous part of the skin for 8-12 hours of unsurpassed systemic relief.
HOW TO USE: The patch is most effective when applied to a veinous part of the body, like the top of the foot or inner wrist. Cleanse and dry skin prior to application. Remove plastic liner and press patch firmly onto skin. Effects last up to 12 hours. Patch should be worn continuously.
INGREDIENTS: Cannabis extract, eucalyptus, naturally derived terpenes.
STRAIN TYPE: 1:1 CBD:THC.
DOSAGE: 20mg CBD and 20mg THC total.
dyw9Hz8f6n
Characteristics
Manufacturer
Mary's Medicinals
Characteristics
Manufacturer
Mary's Medicinals
Michelle
Mary's Medicinals CBD:THC Patch | 1:1 20mg Rec
Never was big on patches but needed something discreet and steady. I can;t run out for a smoke throughout the day. And I don't want to get too buzzed. This supplies a steady stream of thc and cbd.
Similar Products