18.00
18.00
18.00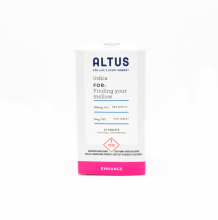 Altus Tablets | Indica 100mg Rec
Pick-up Location
Note:
Price may vary at different stores
Description
Enhance products are our thc centered products made with pure, impurity-free strain sourced distillate. They are best for enhancing life experiences, special occasions or perhaps hanging out with friends after work. 5mg THC per tablet
MymvKwXTb9
This product is not rated yet. Be the first to review it.
Similar Products