1
1
10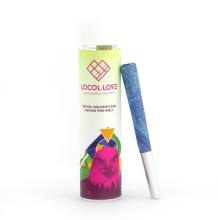 Locol Love Artisan Cone | Sativa 1g Rec
Pick-up Location
Note:
Price may vary at different stores
Description
The 1 gram solvent less caviar preroll is featured in a beautiful new cone made from ultra thin and slow burning hemp and palm paper. The color used is made with edible hempseed oil and natural pigments. The non-smokable paper tips are with safe food-grade materials.
iJoTgYrteJ
Jenkins
Locol Love Artisan Cone | Sativa 1g Rec
It's been hard to find in recent month but if you do - treat yourself. Similar to Kaviar's. Cant really say which is better. Both are great.
Similar Products