35.00
35.00
35.00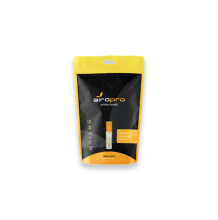 AiroPro Cartridge | Jack Herer 500mg Rec
Pick-up Location
Note:
Price may vary at different stores
Description
AiroPro's innovative Jack Herer 500 mg ceramic cartridges are pre-filled with high-potency pure distillate oil. Jack Herer, "The Emperor of Hemp" himself, was one of the most impactful cannabis advocates in history. The sativa namesake, which has been enjoyed since the mid-90s, lives on to honor his legacy. Its signature blend of spice and pine aromas is so distinct that noses in the know can identify it with just one whiff. The man was legend—so too is the strain.
STRAIN: Sativa.
BATTERY TYPE: AiroPro cartridges use a proprietary Airo Pro/IndigoPro pen. Durable, virtually-unbreakable magnesium alloy body and long-lasting 320mAh Li-ion battery. 8.5 W power output, 300mA (1.5W) charging current, Micro USB rechargeable.
3Pb7XFFkqj
This product is not rated yet. Be the first to review it.
Similar Products