1
1
10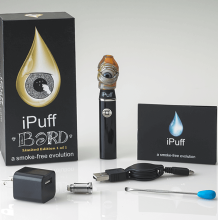 Limited Edition iPuff Bard Pen Set
Pick-up Location
Note:
Price may vary at different stores
Description
Behold the 1 of 1 limited edition iPuff Bard handheld vaporizer with a unique glass eye dome. Each dome is hand made in Leadville Colorado by glass blowing artist Michael Bard. Hand blown with love at 10,000ft and hand signed, these pieces are one of a kind.The Eye-Puff Bard pen set includes: 1 iPuff Bard Dome attachment, 1 Vapr2.0 battery, 1 errl V4.0 atomizer, 1 V4.0 replacement heating element, 1 packing tool, 1 wall adapter and 1 extendable USB cord.
This product is not rated yet. Be the first to review it.
Similar Products