30.00
30.00
30.00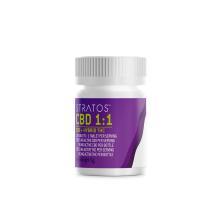 Stratos CBD Pills | 1:1 100mg Rec
Pick-up Location
Note:
Price may vary at different stores
Description
Stratos CBD 1:1. A great cannabis experience should begin with a feeling of certainty. With STRATOS immediate release tablets, not only can you expect a rapid onset of effects, but you can be sure your experience will yield the same effect every time you enjoy them. We take a scientific approach in our manufacturing processes employing pharmaceutical industry benchmark standards to ensure reproducible, consistent results. The bioavailability of tablets is greater than that of cannabis infused food items. Tablet technology ensures that more of the dose you ingest is absorbed in the body.
RAemWHsekj
This product is not rated yet. Be the first to review it.
Similar Products