30.00
USD
30.00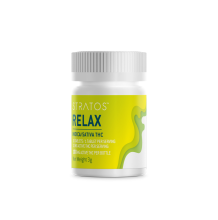 Stratos Pills | Relax 500mg Med
Pick-up Location
Note:
Price may vary by store
Description
Stratos Relax tablets deliver a 50/50 hybrid strain-type THC. With balanced and relaxing body and head effects. Relax is perfect for helping you smoothly transition from human doing to human being. The only active ingredient in each tablet is cannabis oil. The effects are derived using whole plant, strain-type specific CO2 oil extraction. Stratos tablets are formulated to maximize the absorption of the cannabinoids into the body quickly and effectively. On average, the user's experience is felt within thirty minutes, and often lasts between six and eight hours. DIETARY RESTRICTIONS: Gluten, fat, nut and sugar free, vegan. STRAIN TYPE: Hybrid. DOSAGE: 500mg THC total. 10 tablets x 50mg THC each.
XbiAWb9C73
This product is not rated yet. Be the first to review it.
Similar Products