1
USD
10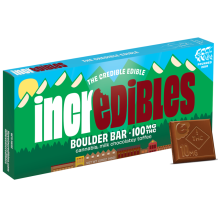 Incredibles Boulder Bar | 100mg Rec
Pick-up Location
Note:
Price may vary by store
Description
Two kinds of chocolate and house made toffee infused with 100mg THC from hash oil. Milk Chocolate with Crunchy Toffee Bits.
qNArAswXfw
Cherry
Incredibles Boulder Bar | 100mg Rec
Colorado classic! It is amazing and they should start making them with no THC as well!
Similar Products