1
1
10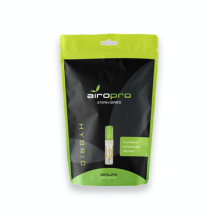 AiroPro Cartridge | Apple Jack 500mg Rec
Pick-up Location
Note:
Price may vary at different stores
Description
AiroPro's innovative Apple Jack 500mg ceramic cartridges from the Artisan series are pre-filled with high-potency pure distillate oil. Apple Jack pairs apple & cinnamon to create an ideal balance of sweet and tart. This full-flavored duo deliver an uplifting, comfortable and creative high making it a delicious treat any time of the day. STRAIN: Hybrid BATTERY TYPE: AiroPro cartridges use a proprietary AiroPro/IndigoPro pen. Durable, virtually-unbreakable magnesium alloy body and long-lasting 320mAh Li-ion battery. 8.5 W power output, 300mA (1.5W) charging current, Micro USB rechargeable.
j4P8xr4g6G
This product is not rated yet. Be the first to review it.
Similar Products