1
USD
10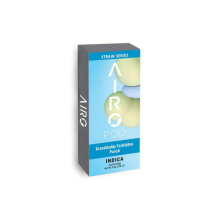 AiroPro Cartridge | Granddaddy Forbidden Punch 500mg Rec
Pick-up Location
Note:
Price may vary by store
Description
Settle into soothing serenity with Granddaddy Forbidden Punch. Granddaddy Forbidden Punch is an indica cross between the famous Granddaddy Purple, Forbidden Fruit, and Purple Punch. As you inhale, taste the grape and passion fruit from the Myrcene and Caryophyllene terpenes. As you exhale, surround yourself with aromas of blooming purple flowers while experiencing peaceful tranquility and full-body comfort at the end of your day. AiroPro's cartridges use the best high-performance ceramic atomizer to provide consistent and unaltered experience from first draw to last. Airo Brands is driven to create an intuitive, virtually effortless, and cleverly designed vapor experience. STRAIN: Indica-dominant hybrid. FLAVOR: Grape and passion fruit. AIROPRO SERIES: Strain. BATTERY TYPE: AiroPro cartridges use a proprietary AiroPro / IndigoPro pen. Durable, virtually-unbreakable magnesium alloy body and long-lasting 320mAh Li-ion battery. 8.5 W power output, 300mA (1.5W) charging current, Micro USB rechargeable.
XGvLJPzu9n
This product is not rated yet. Be the first to review it.
Similar Products