1
USD
10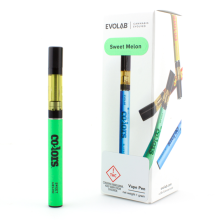 Evolab Colors All in One | Sweet Melon 1000mg Rec
Pick-up Location
Note:
Price may vary by store
Description
There's potent. And then there's Evolab potent. The kind of pure potency you can only get from Evolab's pharmaceutical grade CO2 technology. This oil is almost pure cannabinoids, so nothing gets in the way of the THC or the therapeutic effects of the CBD. It's cannabis stripped down to its purest form, and it will blow away everything else you have tried.
POTENCY: 80% Cannabinoids.
STRAIN TYPE: Hybrid.
BATTERY TYPE: Disposable.
R3JAYo7jYh
Dale
Evolab Colors All in One | Sweet Melon 1000mg Rec
Potency is Great! However I thought I was buying one that you could put a refill cartridge on.
Similar Products