1
1
10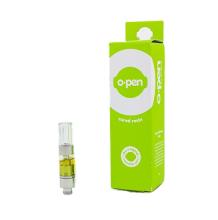 O.Pen Cured Resin Cartridge | Lem Dog 1:1 CBD:THC 1000mg Rec
Pick-up Location
Note:
Price may vary at different stores
Description
Made using hand-selected cannabis flower, in small batches. Each cartridge uses 100% same-strain, same-batch cannabis terpenes, made possible by a distillation method creating the quintessential cannabis experience.
STRAIN TYPE: 1:1 CBD:THC. Sativa-dominant hybrid.
POTENCY: 80-85% total cannabinoids. 40-45% CBD & THC each. See packaging for details on your particular batch.
BATTERY TYPE: 510 thread.
xSMexwXhXG
This product is not rated yet. Be the first to review it.
Similar Products