40.00
40.00
40.00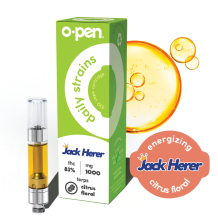 O.Pen Daily Strains Cartridge | Jack Herer 1000mg Rec
Pick-up Location
Note:
Price may vary at different stores
Description
O.pen Daily Strains are a curated selection of popular strains, designed for any occasion. The strains have been scientifically formulated to achieve consistent flavors and effects, while emphasizing THC levels.
EXTRACTION: CO2.
STRAIN TYPE: Sativa-dominant hybrid.
POTENCY: 75% THC avg. See packaging for details on your particular batch.
BATTERY TYPE: 510 thread.
WARNING: Use of Marijuana Concentrate may lead to:
1. Psychotic symptoms and/or Psychotic disorder (delusions, hallucinations, or difficulty distinguishing reality);
2. Mental Health Symptoms/Problems;
3. Cannabis Hyperemesis Syndrome (CHS) (uncontrolled and repetitive vomiting);
4. Cannabis use disorder / dependence, including physical and psychological dependence.
These risks are based on CDPHE evidence statements where there is either moderate or substantial evidence. Where moderate means strong scientific findings that support the outcome, but these findings have some limitations and substantial means robust scientific findings that support the outcome with no credible opposing scientific evidence.
7ua2sErqWu
This product is not rated yet. Be the first to review it.
Similar Products