1
1
10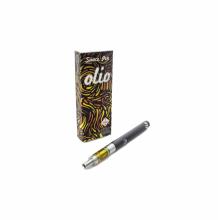 Olio Sauce Pen | Lemon G 500mg Med
Pick-up Location
Note:
Price may vary at different stores
Description
Olio Sauce Pen. Lemon G 500mg. For medical use. Olio sauce starts with fresh frozen flowers that are extracted with N-butane to preserve the maximum amount of terpenes and cannabinoids while minimizing fats, lipids, and residual solvents. It is then purged over multiple days at low temperature preserving terpenes leaving us with an outstanding crystal laden sauce, striving for quality over quantity, which now comes in an easy to use vape pen.
Claire Z
Olio Sauce Pen | Lemon G 500mg Med
these are quite honestly the worst cartridges i have ever used. They're so expensive and are clogged upon purchasing. I bought two, one started off fine but was almost immediately clogged and started spitting up the distillate and the second cartridge was immediately clogged before i even started using it and leaking distillate. these are so awful, i will not waste my money again but at least i got them half off
Jo mama
Olio Sauce Pen | Lemon G 500mg Med
Same as the other review. These are always clogged. I have had two.
Jenga
Olio Sauce Pen | Lemon G 500mg Med
Don't know what the previous two comments are about. Never had a problem with Olio's carts. Plus, you can always return them if you have any issues.
Similar Products