24.00
24.00
24.00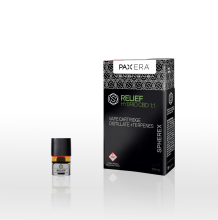 Spherex Distillate Pax Pod | Relief CBD 1:1 500mg Rec
Pick-up Location
Note:
Price may vary at different stores
Description
Spherex Relief CBD is formulated to ease your pain and take any edge off with a 1:1 THC to CBD ratio and a blend of the healing, inflammatory combating terpenes Fenchone and Camphene. Spherex vape cartridges are created with innovate extraction and refinement techniques. Each cartridge features unique terpenes selected from the favorite cannabis strains. Each strain is analyzed for composition then blended to taste. With the perfect blend in hand, Spherex sources the highest quality natural terpenes to create a consistent experience. Set your preferences and personalize your vaping with the PAX Session Control technology. STRAIN TYPE: Indica. POTENCY: 42% THC. 42% CBD. 13% Cannabinoids. 3% Terpenes. BATTERY TYPE: Proprietary Pax battery for Pax pods.
c6vpCmDeji
Mickey H.
Spherex Distillate Pax Pod | Relief CBD 1:1 500mg Rec
Pax is a bit overpriced and overhyped in my opinion. Although, still pretty good if you are ok with spending a bit more and having to buy a separate battery. I tried it from a friend and I'll stick with o.pen for now.
Similar Products