1
1
10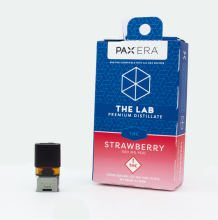 The Lab Pax Era Distillate Pod | Strawberry 500mg Rec
Pick-up Location
Note:
Price may vary at different stores
Description
The Lab Pax Era Distillate Pod Strawberry 500mg is filled with cannabis concentrate that has been refined to isolate THC and increase the potency of the product. Naturally derived botanical terpenes are then added to create this amazing flavored pod. For medical use. STRAIN TYPE: Sativa-dominant hybrid.
BATTERY TYPE: Proprietary Pax battery for Pax pods.
2xyNZaogwB
Tina
The Lab Pax Era Distillate Pod | Strawberry 500mg Rec
I love pax pods! Slick, convenient, never had one leak. And the flavors are great too.
Similar Products