10.00
10.00
10.00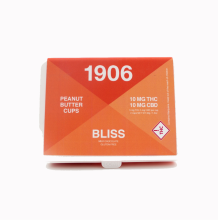 1906 Bliss Dark Chocolate Peanut Butter Cups | 1:1 20mg Rec
Pick-up Location
Note:
Price may vary at different stores
Description
Bliss Peanut Butter Cups | 1:1 20mg from 1906 New Highs. Recreational. Get next-level happy with this special blend of high grade cannabis, Kanna and other mood enhancing plant medicines. Thoughtfully designed to give you a bubbly sense of wellbeing and euphoria. Fast acting formulation begins to work in just 20 minutes. Kanna elevates mood, Magnolia curbs anxiety, L-theanine creates calm contentment, and theobromine gives a clean energy boost.
K5nLDL4H2p
JD
1906 Bliss Dark Chocolate Peanut Butter Cups | 1:1 20mg Rec
You want to start with half or even quarter cup if you are new to edibles. These taste ok, but you are not really eating them for the flavor :) The high is nice and smooth. Maybe just a bit of a dry mouth. Def recommend.
Similar Products