25.00
25.00
25.00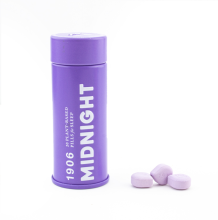 1906 Midnight Drops | 1:1 100mg Med
Pick-up Location
Note:
Price may vary at different stores
Description
Midnight is a thoughtful blend of plant medicine and cannabis to promote sleep. Each Midnight Drop contains 5mg THC and 5mg CBD.
NhoGwXeJ2E
Abc
1906 Midnight Drops | 1:1 100mg Med
Perfect dosage. Pop, go to sleep, wake up full of energy.
Similar Products