1
1
10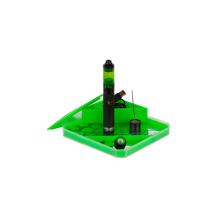 This Thing Rips | OG Four 2.0 Rig Edition
Pick-up Location
Note:
Price may vary at different stores
Description
Made for enthusiasts, by enthusiasts, the R2 RiG Edition is engineered to fit your lifestyle. Our fans have been asking for even bigger rips, so we took our tried-and-true ceramic atomiser and doubled up on the titanium coils. After years of research and development, the R2 RiG Edition has been meticulously crafted for those who desire to take their lifestyle with them everywhere. The package includes: 1 x Max Flow Mouthpiece, 2 x Visual Reaction Chambers, 2 x Dual Ceramic Ti Coil Atomisers, 1 x Adjustable Airflow Ring, 1 x Hypercharged Set It & Forget It Smart Battery, 1 x Built-In Silicone Jar, 1 x Hypercharging Cable, 1 x Stainless Steel Tool, 2 x Alcohol Cleansing Wipes, 1 x Silicone Ring, 1 x Silicone Tray w/Stash Compartment, 1 x Printed Instruction Manual.
LfG4LXEFh4
Characteristics
Manufacturer
This Thing Rips
Characteristics
Manufacturer
This Thing Rips
This product is not rated yet. Be the first to review it.
Similar Products