1
1
10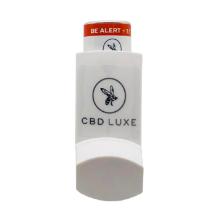 Zoots CBD Luxe Be Clear Inhaler | 7:1 100mg Rec
Pick-up Location
Note:
Price may vary at different stores
Description
Formulated for a quick, natural energy boost and a clear, alert sense of well-being. Contains Myrcene – extracted from Lemongrass – as a anti-anxietal and anti-insomnial. Ginger derived Citral has anti-spasmodic properties, calms musculo-related tension and sharpens mental focus. Beta Caryophyllene enhances pain management, alertness and inflammation challenges.
This product is not rated yet. Be the first to review it.
Similar Products