1
USD
10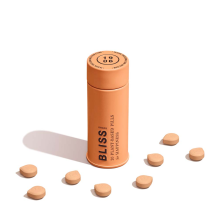 1906 Bliss Drops | 1:1 100mg Rec
Pick-up Location
Note:
Price may vary by store
Description
1906 Bliss Drops. A euphoric blend of three plant medicines and cannabis to promote extroverted happiness. 1906 Drops are a toolkit of six plant-based experiences to optimize every part of your day. These thoughtful formulations combine THC and CBD, plus super-effective adaptogens and herbs for energy, arousal, relaxation, sleep, focus, and a happy mood. Drops are designed to fit perfectly into your life—and your pocket. Drops activate in 20 minutes or less—making them the fastest-acting edibles on the market. INGREDIENTS & SUPPLEMENT INFO: serving size 1 drop (.75g), servings 20, amount per serving: theobromine 100mg*, sceletium tortuosum extract 20mg*, cannabis extract 10mg*, magnolia bark extract (magnolia officinalis) 7.5mg*. *daily values not established. Also contains: calcium carbonate, silicon dioxide, microcrystalline cellulose, crosspovidone, copovidone, magnesium stearate, hydroxypropyl methylcellulose, glycerine, titanium dioxide, carmine acid, riboflavin. Manufactured in a facility that processes: milk, soy, peanuts, tree nuts. DIETARY RESTRICTIONS: Vegan and gluten-free, zero calories. DOSAGE: 100 mg THC, 100 mg CBD total. 20 drops x 5mg THC and 5mg CBD each.
jvuHLz74Tp
Characteristics
Dietary
Gluten free
Vegan
Calorie free
Characteristics
Dietary
Gluten free
Vegan
Calorie free
Lucy
1906 Bliss Drops | 1:1 100mg Rec
Can't decide which I like more - this one or Midnight. They both act in about 15 minutes, much faster than gummies and other edibles. The effects are as described in the name.
Similar Products