1
USD
10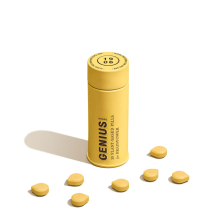 1906 Genius Drops | 1:1 75mg Rec
Pick-up Location
Note:
Price may vary by store
Description
1906 Genius Drops are the first cannabis edible developed specifically to enhance focus. The product of several years of research and development, this formula uses a special single -strain of cannabis sativa known to aid in mental sharpness, plus six additional plant medicines for cognitive focus, memory enhancement, and calm concentration. With a very rapid onset of 20 minutes or less, Genius helps you perform cognitive miracles and tackle everyday tasks. It's a great substitute for coffee or energy drinks if you need to be mentally on your toes, and it works incredibly well to help push you over the hump of procrastination, disorganized thinking, stress-induced mental paralysis, and brain fog.
INGREDIENTS & SUPPLEMENT INFO: Serving size 2 drops (1.5g), servings 15, amount per serving: greater galangal root extract (alpinia galanga) 250mg*, bacopa whole herb extract (bacopa monnieri) 300mg*, rhodiola root extract (rhodiola rosea) 250mg*, l-theanine 80mg*, theobromine 75mg*, caffeine 40mg*, cannabis extract 10mg*. *daily values not established. Also contains calcium carbonate, silicon dioxide, crosspovidone, copovidone, microcrystalline cellulose, crosscarmellose sodium, sodium starch glycolate, magnesium stearate, hydroxypropyl methylcellulose, glycerine, titanium dioxide, riboflavin. Manufactured in a facility that processes: milk, soy, peanuts, tree nuts.
DIETARY RESTRICTIONS: Vegan and gluten-free, zero calories.
DOSAGE: 75mg CBD and 75mg THC total. 30 drops x 2.5mg CBD and 2.5mg THC each.
dxSJWskpA3
Characteristics
Dietary
Gluten free
Vegan
Calorie free
Characteristics
Dietary
Gluten free
Vegan
Calorie free
Winona
1906 Genius Drops | 1:1 75mg Rec
Can't say I felt like a genius but these things are great when you need to stay focused. High but focused. Increase the dose if you want more buzz but i feel that they are great as they come. They Lasts about an hour or two.
Similar Products