1
USD
10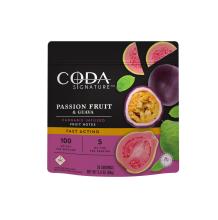 Coda Signature Fast Acting Fruit Notes | Passion Fruit & Guava 100mg Rec
Pick-up Location
Note:
Price may vary by store
Description
Experience rhapsodies of flavor with our all-natural French Fruit Notes. Coda's soft pillowy treats are made with only the finest all natural fruits. Each intensely flavored square is lightly dusted with a unique infused sugar using whole spices and aromatics.
Taste the unique tropical sweetness of guava alongside intensely tart and tangy passion fruit, rounded out with a vanilla-infused sugar. Pure joy without the wait. 
Fast-Acting Technology: Powered by MedPharm's patented Lipophilic Enhanced Absorption Formula (L.E.A.F.), consumers can expect to feel effects in just 15-20 minutes. In addition to reducing onset time, L.E.A.F. enhances the bioavailability of all emulsified cannabinoids by up to 500%.
DIETARY RESTRICTIONS: Made with real fruit, gluten-free and vegan.
FLAVOR: Passion Fruit & Guava.
STRAIN TYPE: 1:1 CBD:THC. Hybrid.
DOSAGE: 100mg THC total. 20 pieces x 5mg THC each.
iG4RL8tTAP
Characteristics
Manufacturer
Coda Signature
Characteristics
Manufacturer
Coda Signature
This product is not rated yet. Be the first to review it.
Similar Products