1
USD
10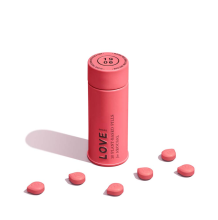 1906 Love Drops | 1:1 75mg Rec
Pick-up Location
Note:
Price may vary by store
Description
1906 Love Drops are an exquisite blend of five herbal aphrodisiacs and cannabis to boost arousal. 1906 Drops are a toolkit of six plant-based experiences to optimize every part of your day. These thoughtful formulations combine THC and CBD, plus super-effective adaptogens and herbs for energy, arousal, relaxation, sleep, focus, and a happy mood. Drops are designed to fit perfectly into your life—and your pocket.
INGREDIENTS & SUPPLEMENT INFO: serving size 2 drops (1.5g), servings 15, amount per serving: ashwagandha root extract (withania somnifera) 150mg*, theobromine 200mg*, muira puama bark extract (ptychopetalum olacoides) 150mg*, catuaba bark extract (erythroxylum catuaba) 100mg*, damiana leaf extract (turnera diffusa) 40mg*, cannabis extract 10mg*.*daily values not established. Also contains calcium carbonate, silicon dioxide, dextrose, copovidone, crosspovidone, microcrystalline cellulose, crosscarmellose sodium, sodium starch glycolate, magnesium stearate, hydroxypropyl methylcellulose, glycerine, titanium dioxide, iron oxide yellow, carmine acid. Manufactured in a facility that processes: milk, soy, peanuts, tree nuts.
DIETARY RESTRICTIONS: Vegan and gluten-free, zero calories.
DOSAGE: 75mg CBD and 75mg THC total. 30 drops x 2.5mg CBD and 2.5mg THC each.
BKbFsQrC79
Characteristics
Dietary
Gluten free
Vegan
Calorie free
Characteristics
Dietary
Gluten free
Vegan
Calorie free
Janet
1906 Love Drops | 1:1 75mg Rec
Love Drops are my new favorite thing. Always was a fan of 1906 but these little poppers are great for microdosers like me!
Mike
1906 Love Drops | 1:1 75mg Rec
This is Love from first taste! Perfection in everything
Similar Products