1
USD
10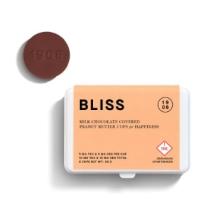 1906 Bliss Milk Chocolate Single Serve Peanut Butter Cups | 1:1 5mg Rec
Pick-up Location
Note:
Price may vary by store
Description
Bliss is a euphoric blend of three plant medicines and cannabis that promotes a bubbly sense of happiness and well-being. We've carefully designed an optimal blend of plants to create a calm, positive mood, plus a nice energy lift that makes you want to share your amazing mood with the whole world. Bliss is formulated from one of the greatest happy drugs ever known: Kanna, also known as Sceletium tortuosum. Kanna works great alone, but it also enhances the effects of cannabis, and we've added two other plant medicines for energy and positive outlook.
NUTRITION: 1 piece (18g), servings: 1, amount per serving: calories 100, fat cal. 70, total fat 7g (11% dv), sat. Fat 3.5g (18% dv), trans fat 0g, cholest. 0mg (0% dv), sodium 45mg (2% dv), total carb. 6g (2% dv), fiber 2g (8% dv), sugars 5g, protein 2g, vitamin a (0% dv), vitamin c (0% dv), calcium (0% dv), iron (2% dv). Percent daily values (dv) are based on a 2,000 calorie diet.
INGREDIENTS: milk chocolate [sugar, cocoa butter, whole milk powder, cocoa liquor, soy lecithin (emulsifier), natural vanilla extract], organic peanut butter, peanut flour (deflatted), powdered sugar (sugar, cornstarch), organic cocoa butter, organic mesquite flour, organic ghee, sugar, sea salt, theobromine, sunflower oil, sceletium tortuosum extract, cannabis extract, magnolia bark extract, rosemary extract. DOSAGE: 1 cup x 5 mg THC and 5 mg CBD total.
fb7dR96wpo
This product is not rated yet. Be the first to review it.
Similar Products