1
USD
10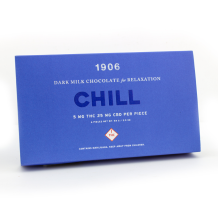 1906 Chill | 5:1 Hybrid 6-Pack 30mg Rec
Pick-up Location
Note:
Price may vary by store
Description
1906 Chill Chocolate. A substantial dose of CBD helps calm muscles, diminish inflammation, and reduce tension. Just one dose of Chill lets you feel the day's stress dissipate and settle into super-restorative downtime. Great after an intense workout, unwinding tense and stiff bodies, soothing anxiety, and erasing rough workdays. Like all 1906 products, Chill is with 5mg THC, so you can still continue to be productive while effectively shedding the ick of the day. NUTRITION: Size: 1 piece (9g), amount per serving: calories 50, fat cal. 30, total fat 3.5g (5% dv), sat. Fat 2g (10% dv), trans fat 0g, cholest. 0mg (0% dv), sodium 0mg (0% dv), total carb. 4g (1% dv), fiber <1g (3% dv), sugars 3g, protein 1g, vitamin a (0% dv), vitamin c (0% dv), calcium (0% dv), iron (0% dv). Percent daily values (dv) are based on a 2,000 calorie diet. INGREDIENTS: Ingredients: milk chocolate [sugar, cocoa butter, whole milk powder, cocoa liquor, soy lecithin (emulsifier), natural vanilla extract], natural green tea extract, sunflower oil, cannabis extract, magnolia bark extract, natural flavors. DOSAGE: 30mg THC and 150mg CBD total. 6 gems x 5mg THC and 25mg CBD each.
uHqziBjuvf
Ronald White
1906 Chill | 5:1 Hybrid 6-Pack 30mg Rec
Chill out with these chocolate bits - small dose of THC and plenty of CBD. Perfect!
Similar Products