1
1
10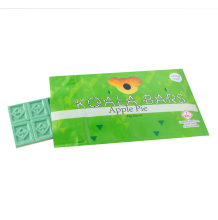 Koala Bar | Apple Pie 100mg Rec
Pick-up Location
Note:
Price may vary at different stores
Description
Apple Pie is our cannabis-infused spin on an American classic. We combine perfectly crisp and sour Granny Smith apples with cinnamon and graham crackers. It's grandma's apple pie in an infused chocolate bar. Koala Bars are 100% raw distillate-infused chocolates in a range of flavors to satisfy every craving. When your cannabis sweet tooth kicks in, chill out with our consistently dosed high-quality and hand-crafted chocolates. INGREDIENTS: White Colocate, Apple Pie Flavor (Front), Butterscotch + White Chocolate Mix (Back), Cinnamon Graham Cracker Crust (Back). STRAIN TYPE: Hybrid. DOSAGE: 100mg THC total. 10 pieces x 10mg THC each.
8KrdfDBAjA
Characteristics
Manufacturer
Koala Edibles
Mindy
Koala Bar | Apple Pie 100mg Rec
Apple. Pie. Chocolate Bar. Feel your mouth watering. Got me some down at Silver Stem and tried a bite. Yummy.