30.00
30.00
30.00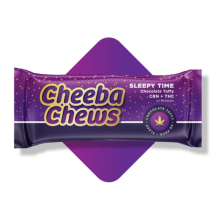 Cheeba Chews | Sleepy Time 100mg Rec
Pick-up Location
Note:
Price may vary at different stores
Description
Cheeba Chews™ is dedicated to producing the highest quality cannabis infused edibles, delivering superior customer service and creating a reliable and enjoyable product line to customers.
wEQjiXMcMR
Characteristics
Manufacturer
Cheeba Chews
Conn
Cheeba Chews | Sleepy Time 100mg Rec
The name says it all and its so hard to find CBN and other cannabinoids. Everyone's hung up on thc and cbd. If you need sleep, cbn is what you are looking for.
Similar Products