25.00
USD
25.00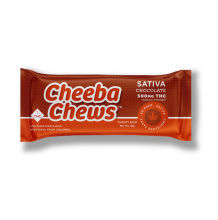 Cheeba Chews | Sativa 500mg Med
Pick-up Location
Note:
Price may vary by store
Description
Cheeba Chews Sativa 500mg. Uplifting and Inspired. These sativa dominant THC infused, deliciously rich chocolate taffy chews have a multi-award winning flavor and effect. Cheeba Chews™ is dedicated to producing the highest quality cannabis infused edibles, delivering superior customer service and creating a reliable and enjoyable product line to customers. INGREDIENTS: Sugar, Glucose Syrup, Cocoa Powder, Palm Kernel and Palm Oil (sustainably sourced), Nonfat Milk, Mono - Diglycerides, Chocolate Liquor, Soy Lecithin (emulsifier), Natural Flavors, Whey, Calcium Caseinate, Salt, Caramel Color. DIETARY RESTRICTIONS: Gluten & peanut free; low calorie, low sugar. STRAIN TYPE: Indica. DOSAGE: 500mg THC total. 20 taffies x 25mg THC total.
CZoYkBKtoz
Characteristics
Manufacturer
Cheeba Chews
Liam
Cheeba Chews | Sativa 500mg Med
Great med dosage! And with good ol Cheeb Chews never go wrong.
Similar Products