1
1
10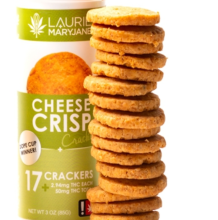 Cheese Crisp Crackers, 50mg
Pick-up Location
Note:
Price may vary at different stores
Description
These snackable crackers just won the 2017 Dope Cup for Best Savory Edible! Unlike our other baked goods, you'll find 17 crackers per package at roughly 2.65 milligrams of THC per cracker. Great for those who have more savory palettes or anyone looking for a unique and delicious edible. These tasty crackers are made with parmesan cheese and variety of spices to help elevate the cheese flavor and reduce the flavor of cannabis. They get their bright orange color from paprika, which gives them a little kick mild enough for anyone to enjoy.
oBtKquSXtJ
This product is not rated yet. Be the first to review it.
Similar Products